Veterans in the Telecommunications Industry
On November 11th, we celebrate Veterans Day to honor and thank all the people who served the country and for their sacrifices. In the US, veterans make up 7.6% of the total population and 10% of our staff here at Asentria.
We'd like to thank the veterans who have become a part of our company by highlighting their service and insight into their transition into the telecommunications industry.
(Note: Not all Asentria veterans are listed as this was a voluntary participation).
Alvin Baldemeca –  US Air Force Veteran

(Alvin Baldemeca, Linux Software Developer at Asentria)
I've joined the US Air Force at the age of 19 straight out of high-school and did a total of 20 years (active duty then reserve). I was an Avionics Technician fixing guidance and control systems on cargo planes where I was assigned to McChord AFB, JBLM. I worked primarily on C-141 and later the C-17. I cross-trained to be a Biomedical Engineering Tech when I transitioned to the Air Force reserve. I did one tour in Iraq in 2006.
Q: After serving in the Air Force, what skill or lesson did you bring to your position at Asentria?
A: For skills, troubleshooting and teamwork. A lesson I learned was to listen to people and help them if you can or point them to someone that can help them.
Ronald E. Fox – US Air Force Veteran

(On Right: Ronald E. Fox, Lead QA and Repair Technician at Asentria)
During my time in the USAF I spent time TDY in England working a lot of time alone on a Reconnaissance Plane's Avionics system. I also worked with other teams as needed at all hours until the systems on the plane were all operational. I learned to manage products/systems, be disciplined, have great work ethics, and willing to get the job done even when it is difficult.
I spent 4 years active (2 years inactive) as an Electronic Warfare Systems tech achieving the rank of sergeant. I worked on two extremely rare and advanced reconnaissance planes (RC-135U) that were always going somewhere to perform critical missions. 3 years of my time was at Offutt AFB in Nebraska but of that I went TDY 3 times for a total of 8 months supporting those missions in England at RAF Mildenhall 60 miles NE of London. It was a fantastic job but very specialized so if I reenlisted I would have had to stay in Nebraska a minimum of 5 more years before I could possibly go to a different base (only 5 bases in the world). At least 1 of my friends there reenlisted but I could not stay there any longer even if they offered me a bonus to stay. Staying in is a very hard choice that many veterans have to make.
Q: From armed forces to telecommunications, how did you make that transition?
A: After the USAF I have mainly worked on Avionics systems. But some of my managers had me working on more complicated products and testing because of the skills I gained in the USAF. My father worked for the Telecommunications industry (Bell Telephone) for 31 years and I had originally thought of going into that field. So when given the opportunity I choose to try this company and its line of products and I have not regretted it.
Bob Paquette – US Coast Guard Veteran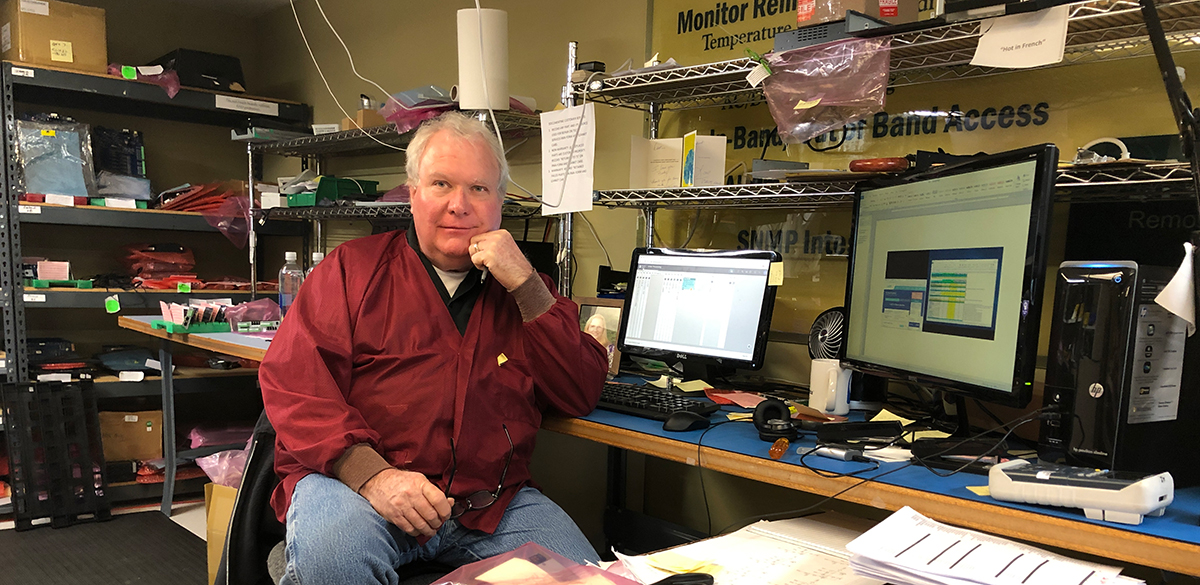 (Bob Paquette, Repair Technician at Asentria)
My name is Bob. I served for almost seven years in the United States Coast Guard beginning in June 1972, just weeks out of high school. I enlisted with the objective of training in the field of electronics and was fortunate to be allowed to obtain skills that eventually led me to a career at Asentria Corporation. I perform repairs on customer products and provide Quality Assurance inspections on Asentria products as they are assembled and shipped to the end user.
My telecommunications background began with radio, using multiple technologies, half-duplex voice and timed pulse transmissions. After the Coast Guard, I worked for a bank security vendor and became familiar with POTS, older mainframe protocols, frame relay, and IP communications as the technology advanced.
Several years later I brought my experience to Asentria to learn how to work in manufacturing. I had been in some kind of field service work since middle school. My Asentria customers have similar challenges of urgency to stay operational, and I work harder so they can meet their objectives. Our product is in many environments, many of them severe. I empathize with an installer or a tech responding to a down site, as I faced similar situations.
Q: What do you think about Warriors4Wireless (W4W) in helping service members and veterans transition into the telecommunications industry?
A: The men and women serving our country, with fresh experience in military telecommunications and technologies, are assets to be treasured. I am heartened to see the veterans service organizations reach out to vets to provide a channel back into the civilian workforce. Warriors4Wireless is a great resource to get our veterans employed in the growing telecom industry.
Aaron Bond – US Army Veteran

(Aaron Bond, Manager, Technical Documentation at Asenrtia)
I enlisted in the US Army in August of 2001 and got out of the service in August 2013. My Military Occupational Specialty (MOS) was 25B, Information Systems Operator/Analyst, and I primarily served stateside. Most of my time was spent at Fort Lewis, WA, Fort Belvoir, VA, Fort Meade, MD, Fort Gordon, GA and Fort Benning, GA, although I had a number of short visits in Europe and Asia-Pacific.
While traveling to an information security conference in Asia-Pacific, I was detained during a layover in Beijing. Security pulled me aside because I was the courier for the computers that belonged to my team. I had to explain all these computers, their contents and why the United States Army was flying commercially. At one point one of the security officers points to my name and exclaims, "Bond! Like James Bond!" To which I nod my emphatic agreement. The two security officers still in the room start naming different James Bond movies at me, and tell me to pack up my equipment. I get back to my squad, and my team leader's response is, "Took you long enough."
Q: After serving in the Army, what skill or lesson did you bring to your position at Asentria?
A: There's so much information and so many skills that the Army tries to cram into soldiers. Probably the skill that's served me best at Asentria is the ability to make an Ethernet cable with my eyes closed.
Thank You to Our Veterans
The telecommunications industry is growing with the expansive build-outs and upgrade periods for carriers, utilities, federal agencies, wireless vendors and more. We are proud to have veterans transition from their armed force's duties helping the country, go on to make an impact within the telecom community.